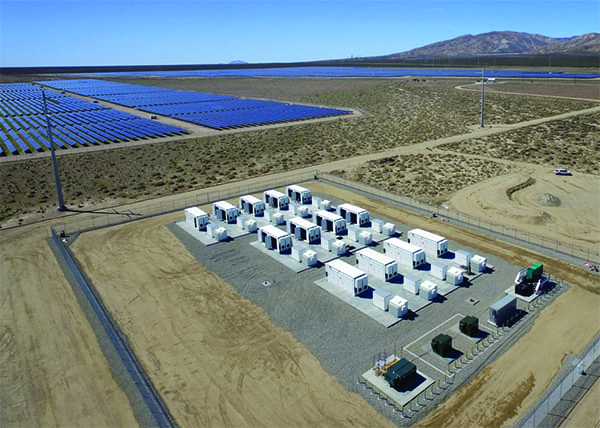 When Doosan GridTech installed a 25-MVA/10-MWh battery energy storage system (BESS) for the Los Angeles Department of Water and Power (LADWP) at its Beacon Solar Plant site in Kern County, California, the company introduced mission-critical design elements that enabled the system to operate reliably in one of the more inhospitable places on the planet while meeting the utility's rapid-response and high-performance requirements.
Due to its location in the Mojave Desert (Figure 1), LADWP required its first utility-scale BESS to deliver maximum reliability—99% for 10 years—while accommodating the following use cases:
■ Frequency control to meet and maintain North American Electric Reliability Corp. and Federal Energy Regulatory Commission frequency specifications as a balancing authority.
■ Energy storage to demonstrate the project's ability to offset renewable energy generation.
■ Voltage support to provide reactive power adjustments at the 230-kV transmission line to help mitigate voltage rise and drop occurring due to wide variations in energy production and load during the day.
■ Performance testing to demonstrate long-term and commercial-scale reliability of the energy storage technology.
Given these use cases, the nascent state of battery energy storage technology, and the extreme temperature conditions of the Mojave Desert, Doosan GridTech used an N+1 design methodology and intelligent failover feature to deliver a BESS with minimum system downtime for maintenance and repair.
The design approach balances economics and reliability while making sure the system will meet its performance guarantees. While the N+1 methodology is commonly employed in critical utility applications, this is the first time that this strategy and its corresponding financial investment was accepted by LADWP to assure the highest degree of reliability in its flagship battery storage installation.