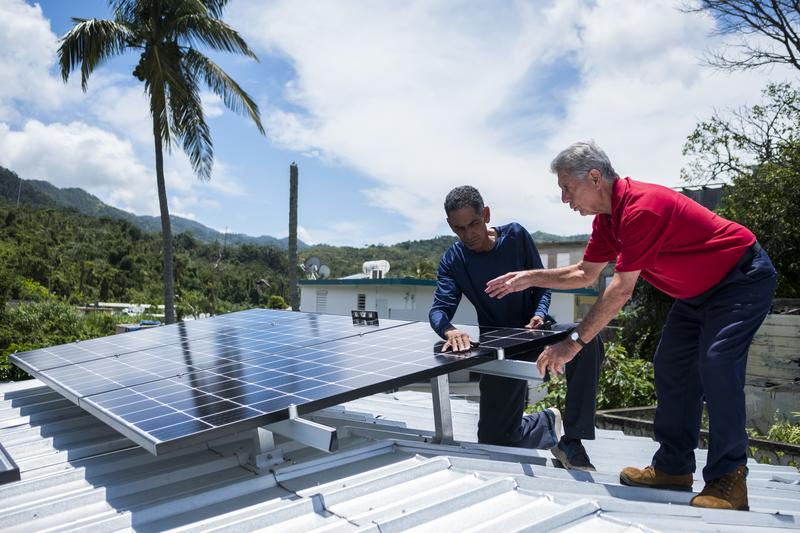 As Puerto Rico rebuilds after Hurricane Maria, an organization called Casa Pueblo has sought to spearhead a fight for energy independence.
Based in the small, mountainous town of Adjuntas, Casa Pueblo is a community center that's been running on solar energy since 1999. It powers a radio station, industrial coffee grinders to make and sell their own coffee, medicinal refrigerators, and a small movie theatre. After the devastation of Hurricane Maria, Casa Pueblo was crucial in meeting the town's energy needs when most of the island plunged into darkness. Residents were able to store perishable food in their refrigerators, plug respirators and charge their phones.
Federal officials estimate it will cost over $29 billion for an overhaul of Puerto Rico's power grid to prepare the island for the next major storm. But Casa Pueblo is providing a model as Puerto Ricans look to solar energy to be pivotal in guarding against future blackouts. The Puerto Rican government recently pledged to transform its power grid to rely entirely on renewable energy by 2050. Casa Pueblo is being featured in a new National Geographic documentary called "From Paris to Pittsburgh" that chronicles the effects of climate change in the United States and how Americans are responding.
Arturo Massol Deya, the associate director of Casa Pueblo and a professor at the University of Puerto Rico, joins the program to share the state of solar energy in Puerto Rico.