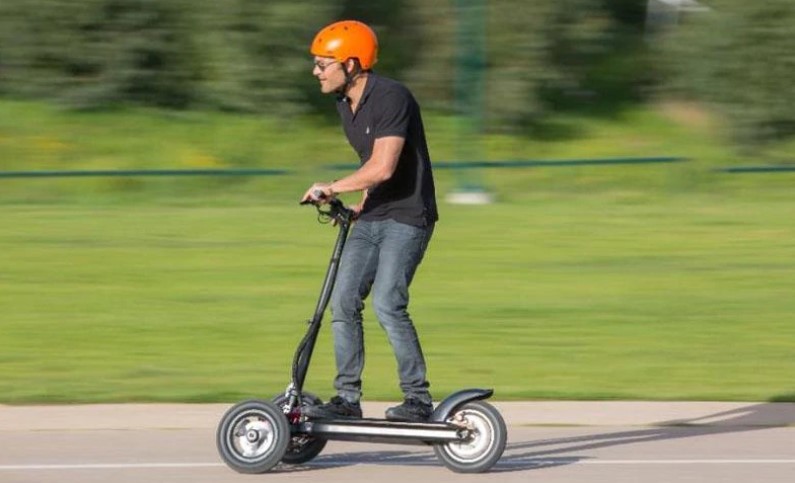 UltraCharge has received further validation of its unique, high powered, cobalt-free lithium-ion battery after signing a purchase agreement with Israel-based three wheel electric scooter manufacturer Roadix Urban Transportation.
The excitement sent Ultracharge shares into overdrive yesterday, with the ASX listed tech company's stock touching 1.5c a share, nearly double the previous day's close of .008c.
Under the agreement, UltraCharge will design, develop and manufacture a lithium-ion pouch-cell battery that will be fully compatible with Roadix's MUV-e lightweight three-wheel electric scooter that folds into a suitcase-sized trolley.
The company said its batteries are expected to deliver more torque and power for the scooters whilst, at the same time increasing their range substantially.
UltraCharge is contracted to provide a total of 16,500 batteries over a three-year period with the first 2000 to be delivered in the first year.
In May, the company signed a similar agreement to provide leading Israeli electric scooter manufacturer Blitz Electric Motors with two types of lithium ion pouch-cell batteries.
This covers a forecasted 28,000 batteries for Blitz over the next 3 years.
Pilot testing in the two models of scooters is expected to occur towards the end of this year.
UltraCharge Chief Executive Officer Kobi Ben-Shabat said: "This contract with Roadix is another significant milestone for our cobalt-free, high voltage, lithium-ion battery solution and clearly demonstrates UltraCharge's ability to customise solutions for specific end-user requirements."
"UltraCharge is one of only a handful of pure lithium-ion battery listed companies in the world with the ability to produce a lithium-ion battery and we are well placed to capitalise on the rapidly emerging global opportunities for lithium-ion batteries."
The company's batteries use a suite of proprietary solutions that potentially provide all round improvements in power, energy capacity, lifespan, safety and charging speed.
This includes its unique "Lithium, Nickel, Manganese Oxide" or "LNMO" battery cathode technology that delivers more power and storage capacity.
Importantly, the company said it does not require the use of expensive cobalt in its construction, which could potentially reduce its cost to half that of commercial cathodes.
Ultracharge also has a lithium-ion battery anode technology first developed at the Nanyang Technological University in Singapore, that allows a lithium-ion battery to charge faster, hold its charge for longer and cycle up and down more times before it runs out of life.
It replaces the typical graphite anode found in most lithium-ion batteries, with a proprietary titanium dioxide nanotube gel technology that, according to the company, can charge up to 20 times faster than regular lithium-ion batteries.
Additionally, Ultracharge also has its own lithium-ion battery "electrolyte" solution, which can increase battery lifespan and performance in both high and low temperature climates.
It is not by chance that UltraCharge's unique lithium-ion batteries address the key issues of fast charging and cost that will allow electric vehicles to level the playing field with conventional internal combustion engine vehicles.
Fast charging batteries will allow EVs to offer the same freedom of travelling from one point to another with minimal planning and waiting times whilst the high cost of battery packs would make EVs more cost competitive with conventional counterparts.
Both the new Roadix contract and the previous Blitz contract offer Ultracharge the opportunity to prove its technologies in the growing electric scooter market, which US based market research and consulting company, Grand View Research, forecasts will be worth USD$28.6bn by 2025.
Success will position UltraCharge well ahead of the competition and open further opportunities in the EV market.