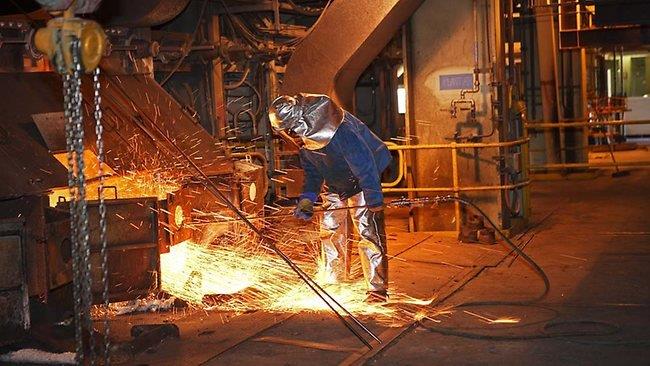 Copper prices rose on Wednesday as a lower dollar and higher equities triggered fund buying, but worries about the U.S.-China trade dispute and demand growth in top consumer China are expected to cap gains.
Benchmark copper on the London Metal Exchange was up 0.6 percent at $6,220 a tonne at 1028 GMT. The price of the metal used widely in the power and construction industries hit a two-week high of $6,296 on Tuesday.
"The weaker dollar and the stock market recovery are supporting factors," a commodity-focused fund manager said.
"Fears about global growth due to the trade dispute will be a negative for all assets that rely on growth."
TRADE: Worries about trade were further reinforced after the U.S. said China has failed to alter its "unfair" practices, ahead of the meeting next week between U.S. President Donald Trump and Chinese President Xi Jinping.
DOLLAR: The weaker U.S. currency, which makes dollar-priced commodities cheaper for holders of other currencies, was helping industrial metals. The is a relationship used by funds known as commodity trading advisors (CTAs) which trade using buy and sell signals from numerical models.
POSITIONS: Traders are keeping a close eye on positions holding large amounts of LME copper warrants and cash contracts, which is fuelling nervousness about nearby availability.
This can seen in the premium for the copper cash and three-month contract at around $22 a tonne.
CHINA: The country accounts for nearly half of global demand estimated at around 24 million tonnes this year.
"Fundamentals are little changed, amid steady demand and somewhat sluggish supply, resulting in a broadly balanced market," Barclays analysts said in a note. "We forecast China to slow but not collapse and this to lead to lower rates of demand growth from a very large absolute base."
BALANCE: A recent Reuters survey showed the copper market was expected to see a small surplus of 13,500 tonnes this year and a small deficit of 44,000 tonnes in 2019.
TECHNICALS: Strong support for copper comes in at $6,150-$6,160 near the 21-, 55- and 100-day moving averages.
ZINC: The premium for the zinc cash over the three-month contract hit a 21-year high of $97 a tonne due to falling stocks in LME registered warehouses on Tuesday. It was trading around $94 on Wednesday Stocks at 123,275 have more than halved since Aug. 13. The three-month zinc price was up 0.4 percent at $2,562 a tonne.
PRICES: Aluminium rose 0.7 percent to $1,954, lead added 0.6 percent to $1,973, tin was up 0.2 percent at $19,445 and nickel gained 0.3 percent to $11,130.