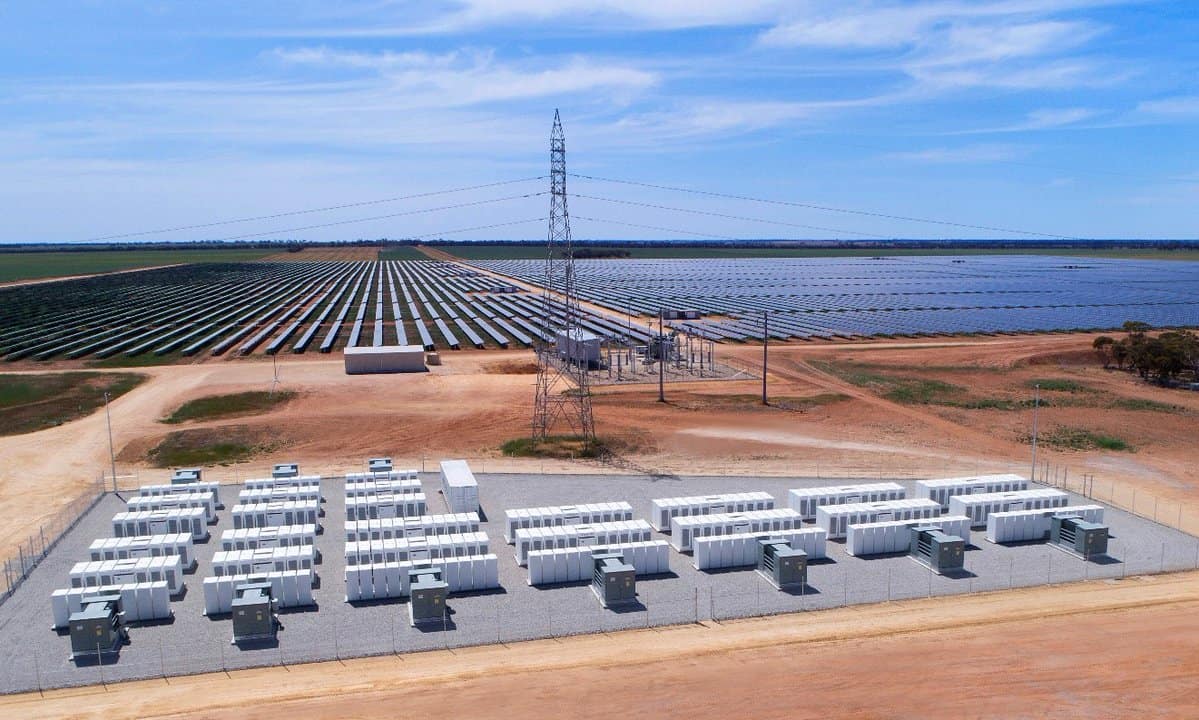 A 25 MW/50 MWh Tesla grid-scale battery was commissioned this week at the 60 MW Gannawarra solar power plant north of Melbourne in the Australian state of Victoria. This makes the Gannawarra facility the largest in the country to be retrofitted with a storage battery. Last month, installation of a 30 MW/30 MWh battery at the Ballarat power station in Victoria was completed. That battery is expected to begin operations before next summer.
The battery is owned by Australia's renewables developer Edify Energy and Germany's Wirsol and operated by EnergyAustralia under a long-term power purchase agreement, according to PV Magazine. Both batteries were paid for by a $50 million grant from the Australian Renewable Energy Agency and the government of Victoria, with each contributing $25 million. The Gannawarra battery installation was commissioned ahead of schedule and has begun operating after passing all of its installation checks. Below is a video of the installation process.
Although it was completed ahead of schedule, Edify Energy and Wirsol say that they had to overcome some unique regulatory and technical challenges to deliver the first battery storage system retrofitted to an existing solar farm. While the Australian government dithers and diddles about moving away from coal and toward renewables, the Australian states are filling the policy void and creating new commercial models for renewable energy and storage facilities in Australia.
Why is that? Are they being paid off by George Soros and Tom Steyer? Are they saddling their residents with burdensome new utility rates so they can reap enormous financial rewards? Have they simply been brainwashed by green energy activists who slip pillow speakers under their heads at night playing an endless stream of socialist pablum?
No, they are doing it because renewable energy coupled with battery storage makes more economic sense and is more resilient than conventional methods of generating and distributing electricity. Australia has the largest coal deposits in the world. Many Australians are horrified the country can't just dig it all up and sell it to China and Vietnam and India.
Asking people to change their behavior for a good social purpose seldom gets very far. Asking people to change their behavior to save money works a whole lot better. That's what's happening in Victoria today as well as in South Australia, Queensland, New South Wales, the Northern Territories, and Western Australia. The toothless, muddle-headed national government has made itself irrelevant to energy policy in Australia, proving once again that money is more important than ideology every time.