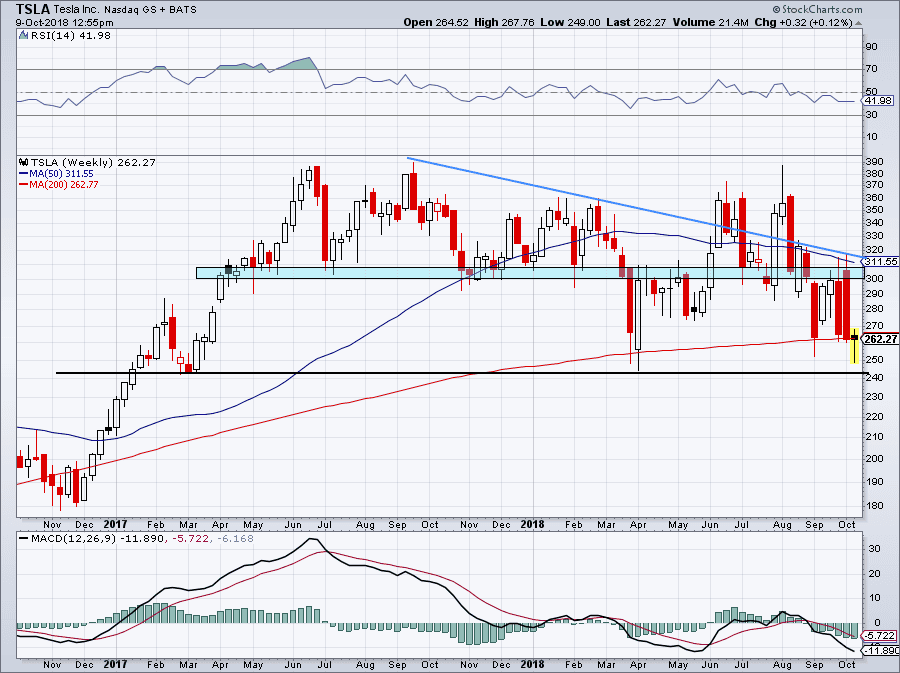 Tesla Inc. has been a total mess. While shares are rebounding nicely on Tuesday, up 5.5% and over $264 a share, they're still well off the recent highs.
The "go-private" fiasco has painted a picture, where, the best case scenario is that CEO Elon Musk needs help in the C-suite and the worst case scenario suggests he's coming undone from the inside out.
Perhaps both are true.
Either way, it's cranked up the volatility on the stock to incredibly high levels, as shares have made huge moves over the past few months. It's made trading the name tough, whether long or short, and has made options quite expensive as implied volatility (IV) levels have soared.
With earnings likely in early November and Tesla already producing a record number of cars – manufacturing 50% more vehicles this quarter vs. the prior quarter – one has to ask where Tesla could go next. It's likely that the company was close to breakeven operations. Whether that means slightly profitable, as management predicted last quarter, or slightly in the red is still up for debate. The stock's reaction very well could depend on what investor sentiment looks like at the time.
It will be dicey, to say the least. The bulls have seen a significant breakdown in their case to owning Tesla, at least as far as the technicals go. Above is two-year weekly chart with the 200-week moving average and 50-week moving average.
We can see that the 50-week moving average has been resistance and is now trending lower, while the 200-week moving average has been support. On Monday, Tesla plunged to $250, before bouncing on Tuesday and getting back above the 200-week moving average. Ending the week above this mark should deal a confidence boost to the bulls. Below, and bears may very well put a feather in their cap. Should Tesla break below the 200-week moving average this week or in the ensuing weeks, look to see how it handles the low $240s.
This not only matches the lows from April, but also a support level from early 2017. Should it give way, it could create selling pressure into the earnings report. Will that set up Tesla a pre-earnings buy? Perhaps, but we'll have to see.
On the upside, if the 200-week holds and we see a rally, let's see how the $300 to $310 range treats Tesla. This area has been pivotal over the past 20 months, acting as both support and resistance at different times. Given how far Tesla has to rally to get there, I'd suspect, at least at first, for it to be resistance.
Over this mark, though, and Tesla could have room to run. That's because it would mean that the stock has cleared the 50-week moving average and downtrend resistance (blue line). If Tesla rallies ahead of earnings, it could set up as a sell-the-news event.