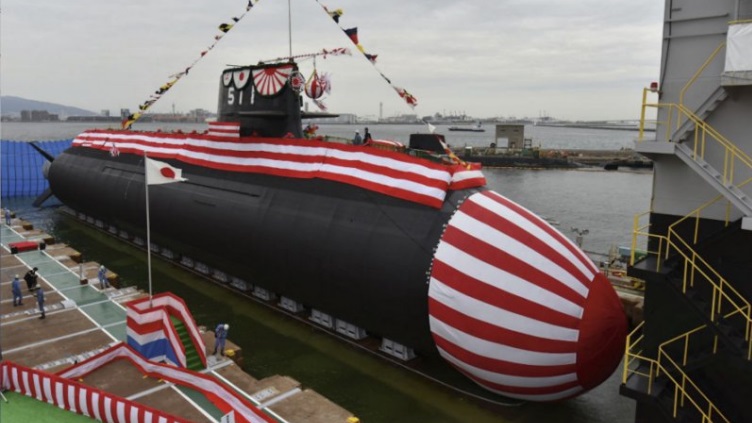 Japan's Mitsubishi Heavy Industries (MHI) has launched the first Soryu-class diesel-electric attack submarine (SSK) for the Japan Maritime Self-Defense Force (JMSDF) to be equipped with lithium-ion batteries.
The 84 m-long boat, which has been named Oryu (with pennant number SS 511), entered the water on 4 October in a ceremony held at MHI's facilities in Kobe.
The submarine is the 11th of the class and the sixth to be built by MHI, with the other five having been built by Kawasaki Heavy Industries. Oryu was laid down in March 2015 and is expected to enter service with the JMSDF in 2020.
The launch comes after GS Yuasa, a Kyoto-based developer and manufacturer of battery systems, announced in February 2017 that Japan would become the first country in the world to equip SSKs with lithium-ion batteries in place of lead-acid batteries.
At the time the company said the batteries, which store considerably more energy than the lead-acid batteries, would be mounted on the final two Soryu-class boats for the JMSDF: SS 511 and SS 512.
According to Jane's Fighting Ships , the Soryu class has a beam of 9.1 m, a hull draught of 8.4 m, and a displacement of 2,947 tonnes when surfaced and of 4,100 tonnes when submerged.
The previous boats of the class have been fitted with two Kawasaki 12V 25/25 diesel generators and four Kawasaki Kockums V4-275R Stirling air-independent propulsion (AIP) engines, and use lead-acid batteries for energy storage.
Each of the platforms has a top speed of 20 kt when submerged and of 12 kt when surfaced.
The Soryu class is equipped with six 533 mm bow tubes that can fire the Japanese-developed Type 89 heavyweight torpedo. The boats are also capable of deploying the UGM-84C Harpoon medium-range anti-ship missile against surface targets. Each boat has also been equipped with two underwater countermeasure launchers.