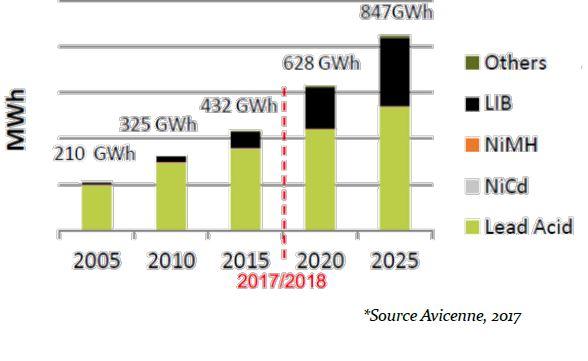 There's been a lot of buzz in the battery industry about the growth of lithium-ion batteries and how they will grab market share from lead-acid as the need for efficient energy sources in electric vehicles and other applications.
But while lithium-ion is growing rapidly, particularly for new applications, lead-acid batteries are alive and well, according to several industry experts speaking at the recent Battery Show in Novi, MI, during a technical conference session titled "Advancements in Lead Battery Technologies."
According to battery market research firm Avicenne, lead-acid presently garners a 75 percent share, in terms of milliwatt-hour capacity, in the secondary battery market. While lithium-based chemistries are growing at a 27 percent compound annual growth rate compared to 6 percent for lead-acid, the latter will still be the largest technology (see figure) for the foreseeable future, the firm says.
Ed Shaffer, CEO and founder of battery research and development firm Advanced Battery Concepts, noted in a presentation that current lead-acid capacity is over 367 GWh today, and even with robust growth lithium-ion would grow from 90 to 350 GWh, which would still be less than lead-acid. "To take all markets would require more than doubling this expected growth rate," he says.
While lithium-ion promises higher energy density and performance than lead-acid, the latter technology remain entrenched in high-volume sectors such as the automotive industry, where reliability, cost-effectiveness, and the existence of a well-established supply chain is crucial.
The possibility of supply constraints from availability of some materials could also be a factor, several speakers noted. Uncertain economical and political climates in global regions where many metals used in batteries exist could pose challenges to refining and processing. Recycling becomes important.
Advanced Battery Concepts' Shaffer notes that lead-acid has a high rate of recycling―over 90 percent ―which is far greater than lithium. So far, methods and infrastructure to recycle lithium have not been established.
Lead-acid batteries are also advancing to keep up with recent technologies incorporated into vehicles, according to Craig Rigby, vice president of technology for Johnson Controls' Power Solutions Group. "Start-stop batteries wil become the new baseline for lead-acid," he says, referring to the growth of batteries especially designed for vehicles whose engines shut off when they come to a stop. Vehicles with start-stop capabilities typically place greater demands on their batteries.
In addition, lead-acid battery makers continue to refine the performance and design of their products. Boris Monahov, technical program manager for the Advanced Lead-Acid Battery Consortium (ALABC), says developments in materials, such as the incorporation of more carbon into the negative plates of batteries, is helping to improve performance parameters such as charging profiles and cranking capacity. The organizaton is researching the feasibility of lead-acid and lead-carbon batteries as an alternative to lithium-ion in hybrid-electric vehicles.
Advanced Battery Concepts has developed production processes to build smaller, higher performance lead-acid batteries, according to Ed Shaffer. Besides vehicles, the technology can be used in a number of applications, such as marine and grid energy storage.