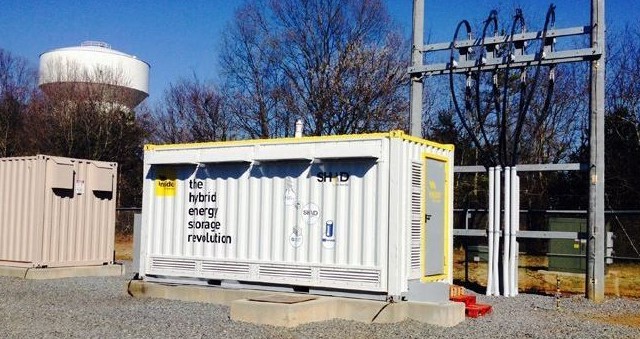 Energy management company Lithium Werks, known for its Nanophosphate Cells and its smart lithium-ion modules, is merging with fellow lithium battery developer and producer Super B. The company is also building a clean energy R&D center at Twente Airport.
Earlier this month, with the merger of Lithium Werks and Super B, a new global company – Lithium Werks BV – serving over 1,000 customers in nearly 50 countries was formed. With more than 400 patents for lithium technology, the company is a leading player when it comes to technical know-how.
Earlier this year, Lithium Werks acquired the assets of the former Valence Technology, Inc, and the Industrial business of A123 Systems, LLC. So basically, the new Dutch company Lithium Werks B.V. is a joint force between a leading cell supplier, offering high-quality Nanophosphate™ Cells, and two A-brand battery system suppliers: Valence and Super B.
"Our strategic partnership has evolved. We now know that the best way for us to meet our customers' growing demand for portable power solutions is to join forces," said T. Joseph Fisher III, CEO, and co-founder of Lithium Werks.
Super B's chief executive Henk Kleef said: "The strong brand positions of both Valence and Super B for battery systems enables the development and expansion of the new Lithium Werks organization.
A new Research and Development Campus
And just 10 days after announcing the merger and formation of the new company, Lithium Werks BV revealed the company was building a major clean energy research and development (R&D) campus at Twente Airport, according to Aviation Pros.
"In order to achieve a real transition, from fossil fuels to renewables, energy has to be available in the right place and at the right time," said the initiator Kees Koolen, chairman of the board, Lithium Werks. "Over the next five years, we will recruit some 2,000 people to develop clean energy technologies at the campus."
Koolen points out that automakers such as Tesla, Nissan, and BMW have been the focus of investors as consumers look to clean energy technologies, but industries from ships and trains to mining and construction are also poised to shift away from fossil fuels. These are the companies Lithium Werks BV intends to serve.
"We want to work on the electrification of everything that isn't cars and consumer electronics," he says. "Those markets are already saturated, and we see a big opportunity beyond them." However, Lithium Werks BV is also looking into the future to find ways of plugging gaps in output from wind and solar plants—a job currently done by conventional power plants.
"Renewable energy sources, such as wind and sun, often produce the most energy at times when the demand is low. This mismatch between supply and demand means it is still necessary to have conventional coal or gas power stations. With smart energy storage and transport solutions, the energy will be available at the right time and place. This will require both sufficient battery capacity – we need to produce many more batteries – and artificial intelligence software," said Koolen.
R&D Campus as Technology Base
Over EUR $100 million has been invested in the creation of the 42 acre R&D campus for the development of a mobile battery ecosystem at Technology Base. The campus will be built in phases.
The first phase is expected to be completed by the end of 2019, initially providing work for approximately 300 people to research new technologies in the field of clean energy. Lithium Werks BV anticipates recruiting some 2,000 people within five years to carry out R&D at the campus.
Lithium Werks is a fast-growing global lithium-ion battery company with production facilities in China and offices in the USA, the Netherlands, Northern Ireland, Great Britain, and Norway. Lithium Werks provides cells, modules, and battery management systems into markets such as material handling, stationary energy storage, medical, and commercial marine.
UPS and the marine sector have experienced the innovative and reliable Super B lithium battery solutions. The Super B solutions are developed and produced in Hengelo, The Netherlands and supported with worldwide regional sales/service centers.