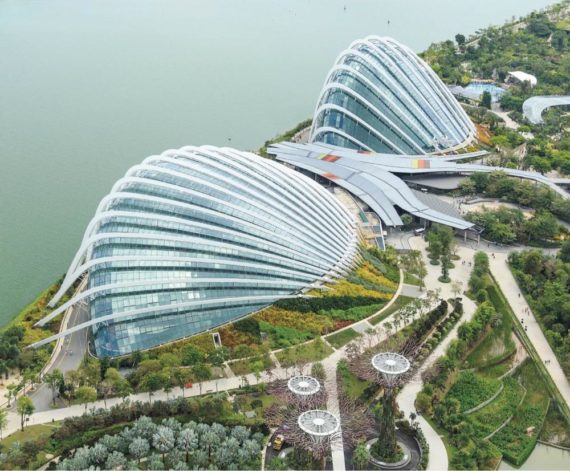 As we enter a more environmentally-conscious age, we need to inevitably build more ecologically responsible and sustainable cities. Creating buildings with the lowest possible energy consumption and carbon emission production, while still being aesthetically pleasing, is a challenge bringing together great minds to change the way we think about our living and working spaces. Here are some of our favorite sustainable architectural projects coming out of China, Singapore, Turkey, and Kazakhstan.
Nanjing Green Lighthouse, China
The Nanjing Green Lighthouse is a zero-carbon office that serves as a shining beacon for sustainable design in China. Completed by Archiland International, the 5,500-square-meter lighthouse takes on a spiral form and is centered on a light-filled atrium that funnels natural light and fresh air to all floors. The low-energy building is a model project located in the Nanjing High Tech Zone, a pilot area for sustainable urban development. It is, in fact, one of the first zero-carbon buildings in mainland China. Daylighting, passive solar design, and energy-efficient technologies lower the Nanjing Green Lighthouse's energy consumption to below 25 KwH per meter-squared each year  —  a number that's offset by photovoltaic energy to meet net-zero energy status. Natural ventilation, interior greenery, open transparent interiors and natural bright materials complements a work place as living exhibition enjoyed everyday by its users.
Gardens by the Bay, Singapore
In contrast to the dense urban environment of skyscrapers and high-rise buildings in Singapore, Gardens by the Bay is part of the government's overall strategy to transform the island city-state into a "city in a garden." Gardens by the Bay is a nature park that spans 101 hectares of reclaimed land in central Singapore, adjacent to the Marina Reservoir, and took just four years and US$1 billion to create. Its main attractions, the 25- to 50-meter-tall steel-framed Supertrees, are home to enclaves of unique and exotic ferns, vines and orchids, among other plants. The Supertrees are also fitted with environmental technologies that mimic the ecological function of real trees. Their photovoltaic cells harness solar energy which is used for some of their own functions, such as lighting, mimicking photosynthesis, and collect rainwater for use in irrigation and fountain displays, exactly as trees absorb rainwater for growth. Seek out this haven of peace next time you visit the global financial center.
Media City, Istanbul
Responding to a commission from the Istanbul Chamber of Commerce to design a site supporting the multimedia industry, the Istanbul-based architecture firm GAD felt it was important to not only make a self-sufficient, sustainable city but to also create a dynamic, intriguing cultural attraction with innovative, interactive planning and structures such as virtual reality museums. Their project, Media City, is a multimedia-based industrial complex designed with a human-focused approach, and should serve Istanbul's future airport, projected to be the world's largest upon completion in 2030. GAD allocated greenery, infrastructure and smart strategies such as self-driven electric cars, buses, and commuter rails, whilst also developing an architecturally unique approach to different areas across the city. The firm has also developed a planning method of creating self-sufficient smart cities which could lend itself to a variety of landscapes around the world.
Astana Expo City 2017 Astana, Kazakhstan
Last year, the International Exposition: Expo 2017 was hosted by Astana, the capital of Kazakhstan. And the Kazakhs made it big! The 174-hectare project featured nearly 120,000 square meters of exhibition and cultural pavilions, 690,000 square meters of a residential development, and 72,000 square meters of service areas including shopping, socio-cultural, and civic facilities.
Selected from 105 entrants, the Chicago-based Adrian Smith + Gordon Gill Architecture or AS+GG's proposal plans adapted on the Expo's theme "Future Energy" by becoming the "first Third Industrial Revolution city," where energy consumed by the Expo community was provided from renewable sources, buildings became generators of power and their energy was stored using innovative technologies while being distributed by a smart grid. The Expo also encouraged the use of vehicles using renewable fuels and everything from the street grid rotation, the block size and the distribution of building mass was developed through a series of studies to reduce energy use, improve comfort and increase energy harvesting for each unit.
The expo aimed to create a global debate about the development of alternative sources of energy and new ways of transportation while creating awareness around the issues of climate change among the Kazakh population. Coming from Kazakhstan, a major oil producer that produced around 1,698 million barrels per day in 2016, this was quite bold. The expo was a big hit; stay tuned on Kazakhstan's sustainable development to understand if the demonstration will create real changes.