Despite missing on earnings, the market reacted favorably to Tesla's Q2 earnings report thanks to a beat on revenue and apparent reduction in cash burn.
Tesla claims it can service its debts with internally generated cash flow, but without a very considerable increase in cash by year-end, the company could be in breach of covenants.
Moody's has downgraded Tesla once this year and stated Tesla will have to raise considerable sums to continue operations.
With Q2 finished, Tesla's cash position has worsened and it has failed to meet production targets; a further downgrade thus seems imminent.
When Tesla (TSLA) announced its Q2 earnings last week, the market was overjoyed. The stock soared more than 15% despite missing on earnings. The ebullience was largely the product of improved revenues, lower than expected cash burn, and the renewed pledge that Tesla can become profitable in Q3 – and won't be needing any further capital infusions.
Despite all the hoopla, things are not so great at Tesla when we look under the surface. , the company's cash position and net debt has gotten progressively worse. The picture is further darkened by the rise in accounts payable: Payables rose from $2.603 billion in Q1 to $3.03 billion by the end of Q2.
That, in turn, as Twitter user TeslaCharts has shown, has added to an ever worsening net working capital deficit: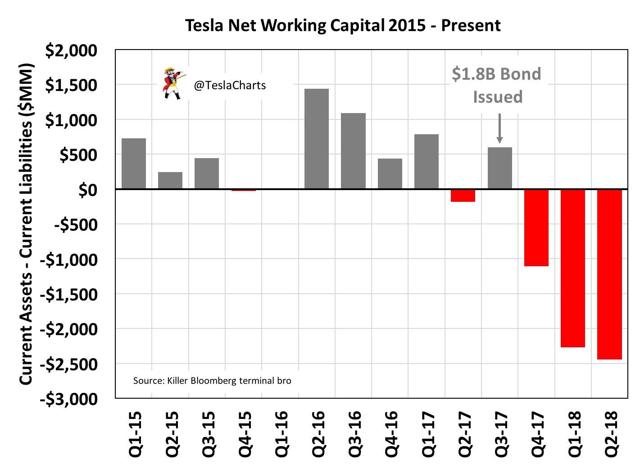 In a recent research note, we addressed the question of whether Tesla could in fact deliver on the promise of profitability in Q3. In that note, we found that, even making wildly optimistic assumptions (such as Tesla being able to deliver every single vehicle produced during Q3 in Q3), it would still take the sale of hoarded ZEV credits to tilt the company into the black with a net profit of about $160 million. Such a move is fundamentally unsustainable. We will be writing a further note in the coming week or two in which we will model out successive quarters, but that is beyond the scope of this article. Today, instead, we focus on one particular elephant in the room: the imminent downgrade of Tesla's credit.