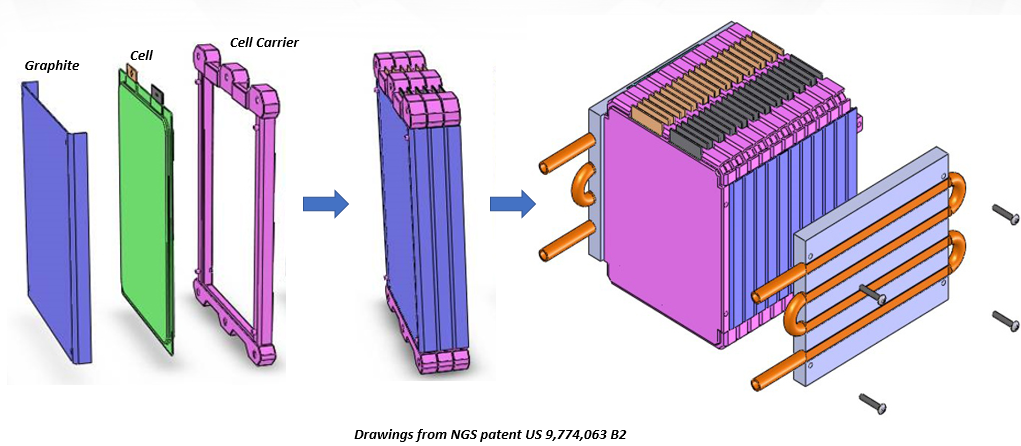 The key to boosting energy density in next-generation EV batteries may lie not only in the cell chemistry, but in the mass of the battery pack, an expert will tell attendees at the upcoming Battery Show.
According to Bret Trimmer, business development manager for NeoGraf Solutions LLC, a growing need for thermal management systems will motivate battery developers to look for alternative materials to minimize mass. And by minimizing mass, they will maximize energy density. "The auto industry's needs are starting to inch into more demanding territory," Trimmer told Design News recently. "And as they move to more demanding applications, you're going to see them looking for an alternative to aluminum."
Today, aluminum is the predominant material used for the heat fins, or heat spreaders, in thermal management systems. The heat spreaders help reduce the high thermal gradients that can shorten battery life—especially when the batteries are exposed to frequent fast-charging techniques.
But aluminum is heavy, Trimmer contends. By replacing it with a lighter weight material, such as graphite, battery developers can cut 30 to 40 lbs from a big EV battery pack. And by eliminating that extra weight, they can boost energy density of the pack, he said.
"Graphite is half the thickness and one-third the weight of aluminum," said Trimmer, whose company provides graphite solutions for thermal applications.
Graphite has been commonly used as a heat-spreading material in cell phones, laptops, tablets, and big-screen televisions for nearly a decade, Trimmer said. But when engineers designed plug-in vehicles a decade ago, they didn't have to worry about issues such as fast charging and cell life, so thermal management systems weren't a high priority.
Now, however, more automakers are talking about fast charging, battery life, and flame propagation control. Fast charging, in particular, creates heat, and battery makers need a way to dissipate that heat, Trimmer said. "People want their vehicle or boat battery to charge faster and they want the cells to last for 10 years," he told us. "To have that, you need a lot of thermal management."
In some cases, thermal management calls for aluminum heat spreaders measuring as much as 2.5 mm thick. Graphite, Trimmer said, could eliminate half of that thickness, along with the weight, and it offers thermal conductivity advantages over aluminum.
Today, heat spreaders in EV batteries are almost all aluminum. But Trimmer expects that to change with next-generation EVs. "There are about a dozen auto companies and Tier One suppliers that are sampling graphite today," he stated. "Once the industry matures and moves toward fast-charging and longer battery, life, you're going to see more people start to scramble and move to graphite."