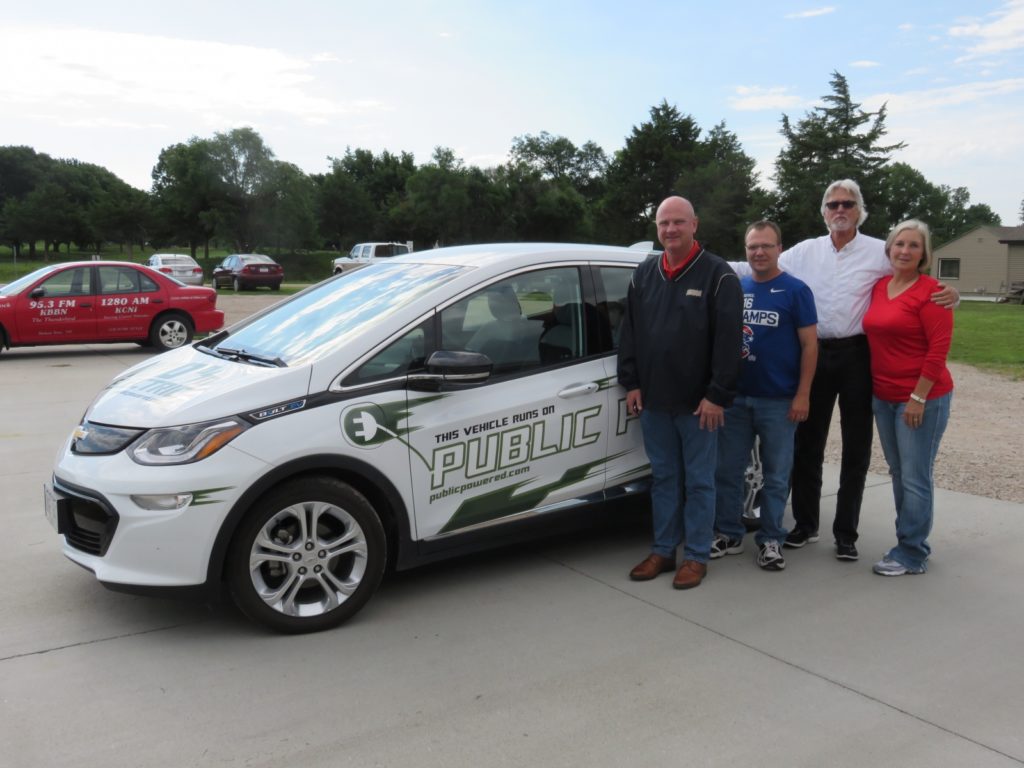 CUSTER COUNTY—You won't hear it coming, but you'll know when you see the all-electric car at the Custer County Fairgrounds. Custer Public Power District (CPPD) will be displaying a Chevy Bolt electric car this week during the fair.
CPPD General Manager Rick Nelson said the car can travel between 250-300 miles on a full charge and even charges when coasting (i.e. down a hill).
"One of the main things NPPD and a group of customers got together and said you know, let's get this vehicle out there. It's all electric, there's no combustion in it at all," Nelson said.
The public power district is aiming to show area residents what it can do and help educate people on how electric cars work. Tarin Burrows says the car runs on lithium-ion batteries and the interior is just like any other car.
"It's has a little bit of zip! There's a button you can push for the sport so you can get extra zip," Burrows said.
The all-electric car will be displayed east of the fairgrounds near the water pump this week. The CPPD STEM trailer will also be on display. Tune into KCNI/KBBN's Breakfast Show on Monday morning as Dave Birnie rides around town with Rick Nelson.
There are two types of electric cars, which can be plugged into an electrical outlet: battery electric vehicles run only on electricity (like the Chevy Bolt) and a plug-in hybrid runs on electricity until the battery is depleted and then is powered by a gas engine.
Electric cars can travel anywhere from 40-250 miles on a full charge. Charging time depends on the car and the charger someone uses.
120 volts—50 hours (standard outlet)
240 volts (32 amps)—9.5 hours
DC Fast Charger—1 hour 20 minutes
Approximately 1,000 electric vehicles are currently on Nebraska's roads and public charging stations continue to pop up around the state.
Fuel efficiency is rated in kilowatt-hours per 100 miles rather than miles per gallon. The average cost of an electric car like the Chevy Bolt is between $36,000 and $40,000 and has a battery warranty of about eight years or 100,000 miles.