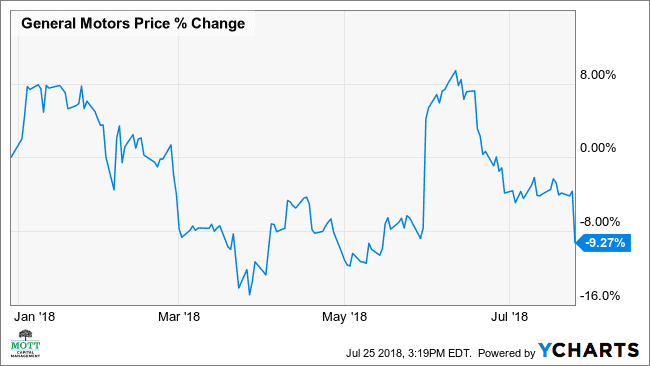 General Motors Co.'s stock continues to struggle, with shares of the automaker down by about 17% from their highs just in the middle of June. The stock hit investors hard yet again on July 25, when the company lowered earnings guidance for the full year. But worse, an analysis of the technical stock chart suggests shares may fall by another 8%. Should that happen, the stock could decline by more than 23% from its June highs.
The company reported better than expected second-quarter results that topped analysts' estimates on both the top and bottom lines. But the company also slashed its full-year outlook, and analysts are now slashing their forecast as a result.
Technical Weakness
The technical chart shows shares of GM breaking a critical level of technical support at $38.75. With the stock trading below support, it suggests the stock falls to the next level of support around $34.50, a drop of more than 8% from its current price around $37.65. Additionally, the stock fell below a multi-month uptrend, another bearish indication.
The viewpoint for revenue is relatively unchanged but still less than encouraging when looking at the longer-term outlook. Revenue is forecast to decline from $143.9 billion in 2018 to $142.3 billion by the year 2020.
The technical chart suggests the significant declines in GM's stock are likely not finished, with more declines on the way. But that bearish technical chart appears to be a depiction of a weakening business outlook.