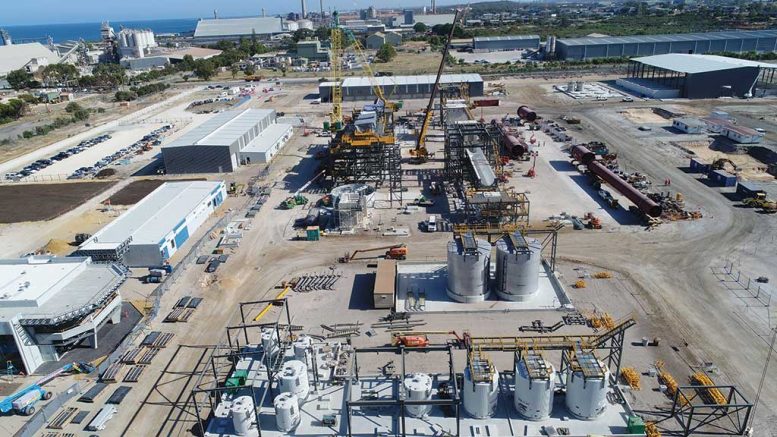 Tianqi Lithium Corp said its board has approved the planned expansion of lithium production at the Greenbushes mine in Western Australia, the world's largest hard rock lithium mine, amid hot demand for electric vehicle batteries.
Tianqi said the A$516 million ($382 million) expansion would boost production capacity at the operation to 1.8 million tonnes of chemical grade lithium concentrate by 2021, in a filing to the Hong Kong Stock Exchange late on Tuesday.
Project operator Talison Lithium, a joint venture between Tianqi and U.S.-based Albemarle Corp, said on Wednesday that work on the expansion is expected to begin in the first quarter next year.
The project will include building a new lithium concentrate plant able to produce 520,000 tonnes of chemical grade lithium concentrate a year, a new crushing plant and related infrastructure, it said in a statement.
Including debottlenecking, the expansion is expected to boost lithium concentrate production capacity at the Greenbushes mine by around 608,000 tonnes to 1.95 million tonnes a year, or around 260,000 tonnes of lithium carbonate equivalent (LCE), it said.
Commissioning of the new plant is scheduled to start in the fourth quarter of 2020, with a second plant possibly commissioned in 2020. The infrastructure would have the capacity to accommodate another plant of similar size, Talison said.
The expansion still faces opposition from a partner in the project, Global Advanced Metals (GAM), which has the rights to tantalum and other minerals produced at Greenbushes.
Talison, owned 51 percent by Tianqi and 49 percent by Albemarle, holds the lithium rights.
GAM fears that the expansion plans threaten its rights and has taken Talison to Western Australia's Supreme Court to halt the expansion to ensure its rights are secure. Trial dates are set for October.
"Contractually the expansion of Talison's lithium production cannot be at the expense of GAM's rights to its tantalum and all other minerals at Greenbushes," GAM said in a statement on Wednesday.
"This trial will determine … whether Talison Lithium's expansion … should be injuncted to prevent it from intruding on GAM's tantalum and other mineral rights at the mine."