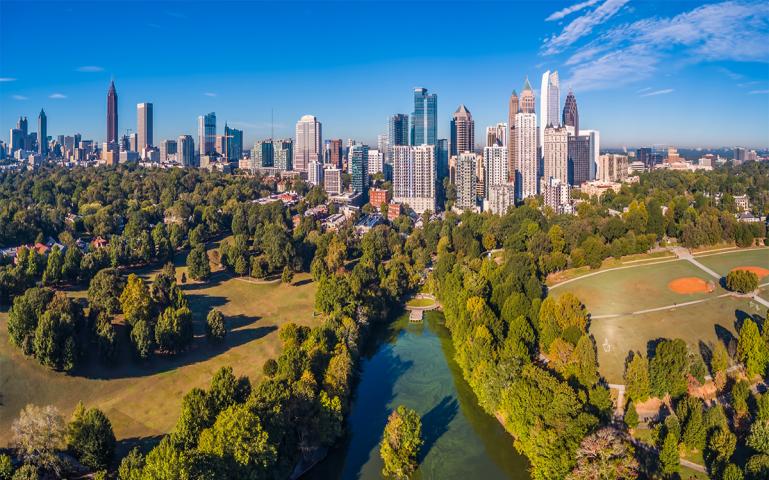 Atlanta made its municipal name as a transit hub—for trains first, then jetliners.
Now the city that's home to the world's busiest airport is hoping to add "green energy pioneer" to its brag book.
The city is working to put flesh on a framework to run entirely on renewable power by 2035. That would cover both municipal operations, including Atlanta's Hartsfield-Jackson International Airport, and all the lights, appliances, and air conditioners in town.
The city laid down that ambitious marker in 2017 with a unanimous vote by the City Council. Now a new mayor, Keisha Lance Bottoms, has sent a plan to reach those goals to the council, which is expected to vote on it later this year.
The plan has three basic pillars: Cutting expected demand through conservation; meeting as much of that demand through locally generated renewable energy, particularly solar power; and purchasing renewable power from out-of-state to fill in the gaps. But the detail and timelines are being tweaked as the plan progresses, said J.P. Matzigkeit, chairman of the council's City Utilities Committee.
"I would like to see us truly be green and to not have to spend money on energy credits outside of the local area to achieve our goal," said Matzigkeit, whose committee is studying the proposal now.
More than two dozen citiesnationwide, including San Francisco, Minneapolis, and St. Louis, have set 100 percent clean power targets. Atlanta is the largest to do so in the Southeast, where utilities have traditionally leaned heavily on coal-burning power plants.
"Our job is to work to make that happen and to show people that this can be good for both the environment as well as their pocketbook, and that Atlanta can lead the nation in this area," Matzigkeit added.
Matt Cox, who helped draft the Atlanta plan, said it balances what's technically and economically achievable in the next 17 years.
Cox is the CEO of The Greenlink Group, a clean energy consulting firm that used sophisticated computer models to estimate Atlanta's future power demands down to an hourly level. The model then projected how those needs could be met with a mix of options and how consumers and industry would respond to them. Then, in a series of public meetings through the end of 2017, Atlantans were invited to come and play with the assumptions that went into the model.
"Citizens could walk up and say, 'Maybe I don't want to take up the entirety of the opportunities in solar, maybe I just want to take half, and I really want to ramp up efficiency as far as we can take it.' And they could see the policy implications of that," Cox said. "We'd show them what the fix would look like in 2035, here are the costs, here are the benefits."
Improving energy efficiency through steps like better insulation and lower-wattage LED lighting is "the biggest piece of the pie," Cox said. In the most aggressive scenario, the city could generate nearly 30 percent of its needs with solar power while cutting the amount of power it would need to draw from the grid by about half.
Those measures would be likely to cost a total of about $1.4 billion—but return nearly $21 for every dollar spent by producing jobs and cutting electric bills. Utility bills eat up a bigger share of Atlantans' paychecks than the national average—double or triple the average in some neighborhoods, where incomes are low and utility bills are high.
Rising temperatures are likely to add to that burden: Atlanta recorded 88 days with highs in the 90sin 2016, when global temperatures set records. That also makes it harder to afford a home, an increasingly contentious issue in the booming city. And addressing those costs is one of the standout features of Atlanta's plan, said Ted Terry, president of Georgia's Sierra Club chapter.
"There are parts of Atlanta that just don't have that much money to spend on their power bill in terms of a percentage of income," Terry said. "A lot of the new housing you're seeing is very energy efficient, but it's also very expensive." Refitting older homes or apartments to consume less power could save consumers hundreds or even thousands of dollars a year.
One other Georgia city has made the same commitment to green energy—Clarkston, an Atlanta suburb of about 12,000 where Terry serves as mayor.
But Cox said the most cost-effective scenario generated through the planning process was to develop about half the city's locally generated solar potential by 2035, with the rest of its power coming from installations beyond Atlanta or purchased from wind farms in states like Oklahoma. That's estimated to cost around $375 million and cut the amount of power Atlanta draws from the grid by about a third.
"The issue is on the economic side," he said. "We don't see consumer adoption moving that quickly, and we're not in a place where we're going to drive prices low enough fast enough to get there."
Atlanta currently draws about 6 percent of its power from renewable sources—primarily hydroelectric dams, said Jordan Johnson, a spokeswoman for the Mayor's Office of Resilience.
Stanford University engineering professor Mark Jacobson said Atlanta's plan is not only possible, but less ambitious than it could be.
Jacobson, who has argued that the whole world could convert to renewable electric systems in all capacities—light, heat, appliances, and transportation—by mid-century, recently publishedestimates of how individual American cities could hit those targets. He estimated Atlanta could meet two-thirds of its demand with solar power, mostly from utility-scale plants, and get another quarter from offshore wind turbines.
Scattered around town are more than 17 square kilometers (6 square miles) of rooftops that could host solar panels, Jacobson's study concluded. That would provide up to 4,000 megawatts of power by 2050, an amount comparable to today's largest nuclear power plant. But more than 90 percent of that potential is currently untapped.
"For what they're proposing, it's a good start," Jacobson said. But he added, "They could do a lot more than they're proposing."
Jennette Gayer, executive director of Environment Georgia, said one opportunity to increase solar power is visible to anyone flying into Atlanta over the freight depots that ring the airport.
"All you can see is warehouses. We have a lot of warehouses that we could be putting solar on," said Gayer, whose organization supported the city plan. "I think we need more policies that help encourage that development."
Georgia has seen a boom in rooftop solar installations in recent years, aided by a state law that allows homeowners to lease rooftop space to companies that want to set up panels there. The state's dominant utility, Georgia Power, has been increasing its investment in large-scale solar farms south of Atlanta, where open land is abundant.
But Gayer said the state has lagged behind in developing wind power, and she wants to see more solar inside the city limits. Environment Georgia is part of a "Solarize Atlanta" campaign, along with the Sierra Club Georgia chapter, that is trying to boost solar by letting consumers pool their resources.
"I want this to be something Atlantans can see and touch and kick the tires of….I want to see something that's part of all of our lives and will continue to drive a clean, renewable energy movement," she said.
While the city's guiding resolution is to hit targets for renewable energy by 2035, there has been some talk of pushing those back. When the framework first went to the council, city staff recommended pushing back the target for converting municipal operations—about 7 percent of consumption, nearly three-quarters of which is driven by the airport and the city's water system—by 10 years, from 2025 to 2035. The city-wide goal would have slipped to 2050. The latest thinking pegs both targets to 2035, but that could change as well, said Megan O'Neil, energy manager for the city's Office of Resilience.
Meanwhile, the city is already working to reduce its own consumption and point residents toward existing programs to promote conservation and renewable power, she said. And the plans can be revisited later if technology improves or energy costs improve.
"There are a lot of people who live in Atlanta. There are a lot of homes and a lot of businesses," O'Neil said. "Educating people on the benefits of clean energy and the benefits they can directly realize from it is something that's going to be an ongoing process in the coming years."