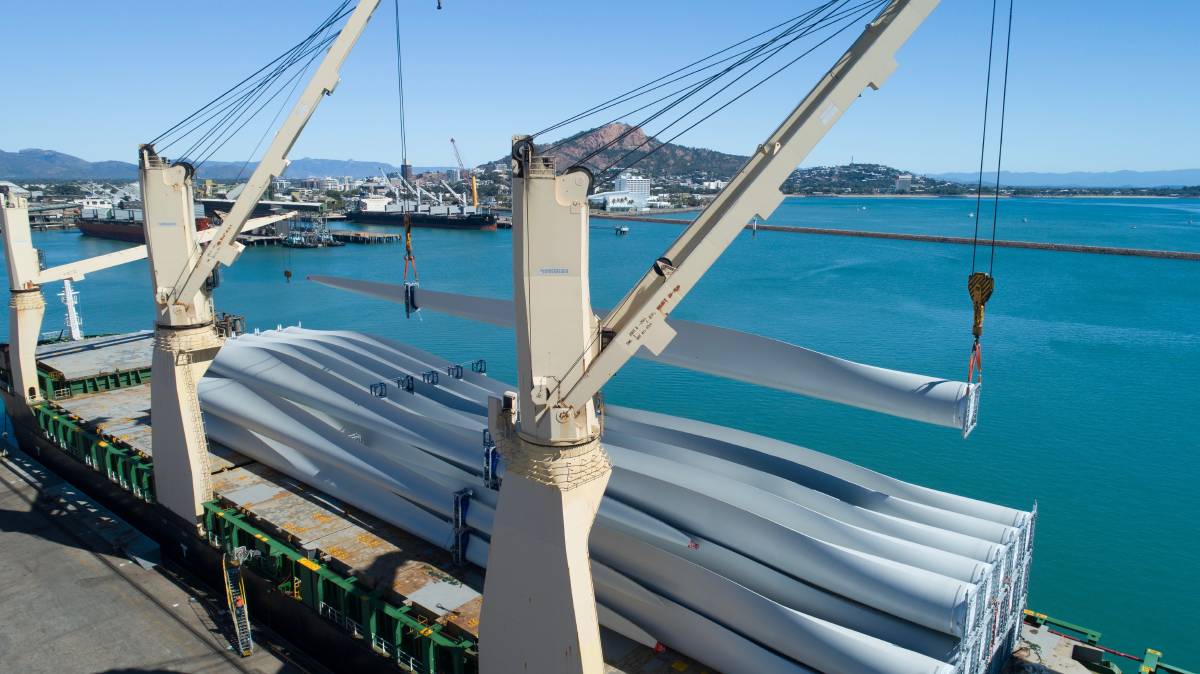 Australia's largest on-shore wind turbine blades were unveiled at the Port of Townsville last week with bus tours explaining the technical construction and operation of the wind turbines.
The Kennedy Energy Park-Port Open Day showcased 36 monster-sized blades which arrived at the port in early June and are bound for the $160 million renewable energy project in Hughenden.
Head of Vestas Australia and New Zealand (which supplied the turbines), Peter Cowling, said the turbine blades demonstrated the most recent technology, which allows for them to transfer more of the wind's energy into electricity and supporting better performance of the wind turbine.
CEO of Kennedy Energy Park co-owner Windlab, Roger Price, said the Park was the world's first on-grid utility-scale hybrid project integrating wind, solar and storage, with stage one generating 43 megawatts of wind, 15 megawatts of solar and four megawatts of battery storage once completed.
"This project will demonstrate how successfully wind energy and solar can be combined to show how much of Queensland future energy needs can be met with renewable energy in a cost effective and reliable way," Mr Price said.
President of engineering, procurement and construction services provider Quanta Solar, Charles Wright, said this was a footprint for future projects in the renewable energy field especially as the Federal Government wanted each state to supply at least 20% renewable energy by 2020.
"Preparations on site are well underway with 9 of the 12 foundations for the wind turbine generators completed," Mr Wright said.
"The Solar and Battery Farm is progressing and our workforce will hit peak in July."
The Kennedy Energy Park commercial operation is scheduled to begin in the fourth quarter of 2018, when Vestas' 15-year service agreement kicks in.