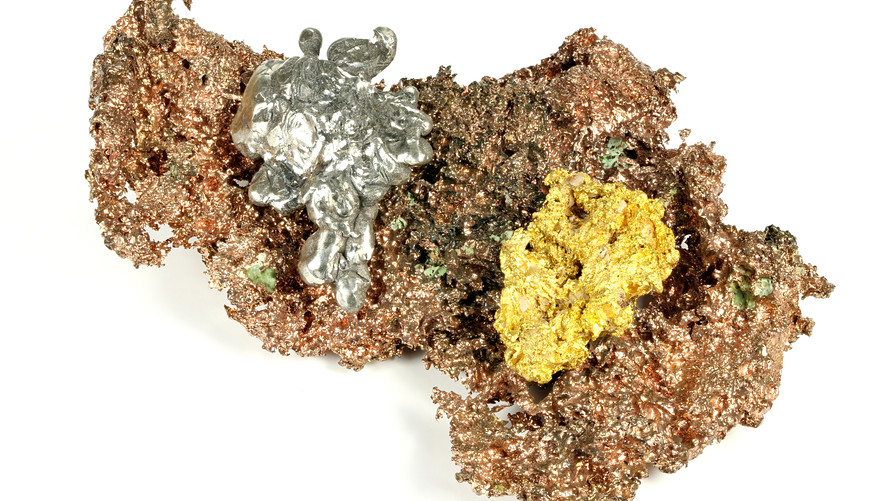 Gold futures settled sharply lower Monday as the dollar gained to start a new quarter of trading, keeping precious metals prices pinned at 2018 lows.
Meanwhile, platinum futures marked their lowest settlement since late 2008 and copper prices finished at their lowest since September against a backdrop of global trade concerns.
August gold GCQ8, +0.36% lost $12.80, or 1%, to settle at $1,241.70 an ounce, proving Friday's small rally to be fleeting as the metal remains in a downtrend. Gold settled at the lowest for a most-active contract since Dec. 21, according to FactSet data.
Gold prices had logged a weekly loss of 1.3% through Friday, as well as a 3.8% June decline and a 5.5% drop for the quarter, leaving prices down more than 4% so far in 2018.
"The excuse for gold being down so much starts with the dollar, but I suspect there are some gold bulls throwing in the towel, which may be exacerbating gold's weakness," said Michael Armbruster, managing partner at Altavest.
Even so, he said he "would not be surprised to see a big gold rally in the near future"—possibly a gain of $50 an ounce. "The best way to speculate on such a move would be to buy long gold calls. At the moment gold is a falling knife, so options may be the best way to play the long side and still keep plenty of powder dry."
The most popular exchange-traded fund that tracks gold, the SPDR Gold Trust GLD, +0.38% shed 0.9% Monday. It dropped 3.5% in June, greatly expanding what is now a 4% year-to-date retreat.
As gold fell, the ICE U.S. Dollar Index DXY, -0.21% was up 0.5% at 95.075, up over 3% so far this year.
Interest-rate expectations, and with them, a higher dollar, have almost exclusively accounted for gold's retreat. Higher rates dull the appeal of nonyielding bullion, while a firmer dollar makes the gold priced in the U.S. unit less appealing to investors using another currency.
Dollar-pegged gold has also decidedly turned lower even as uncertainty over global growth and anxieties about escalating trade tensions—factors that would typically provide a lift for the commodity—have intensified, weighing on prices for industrial metals.
President Trump on Sunday said he sees his threat to impose global auto tariffs as his biggest weapon to extract concessions from trading partners.
Against that backdrop, platinum took the biggest hit among major Comex metals. October platinum PLV8, +1.30% dropped 5.2% to $813.40 an ounce. FactSet data show that as the lowest most-active contract settlement since December 2008.
Auto companies have been talking about the potential for a Trump-tariff fueled slowdown—and that is "killing the catalytic converter market potential" for platinum, said Phil Flynn, senior market analyst at Price Futures Group.
Added to that, adding that "big-name motor manufacturers" keep announcing new electric vehicle models, said Adrian Ash, director of research at BullionVault, which continues to "whack the price of platinum."
September copper HGU8, +0.58% also fell 0.7% to $2.944 a pound. The settlement was the lowest for a most-active contract since late September 2017, FactSet data show.
Prices of the metal used widely in construction applications have tumbled 10% since June 7. China accounts for nearly half of global copper consumption estimated this year at around 24 million metric tons.
"The trade dispute with the U.S. appears to have put pressure on Chinese companies even ahead of the U.S. import tariffs," said Carsten Fritsch, commodities analyst with Commerzbank, in a note.
Meanwhile, a Financial Times report on Sunday said the European Union has threatened $300 billion in fresh tariffs against U.S. products if Trump follows through on his threatened 20% levies targeting the trade bloc's auto makers. And Canadian retaliatory tariffs took effect Sunday, with those measures serving as a response to U.S. metals tariffs.
Other metals traded on Comex saw broad losses, with September silver SIU8, +0.98% down 2.2% at $15.835 an ounce, marking the lowest finish since mid-December. The most popular exchange-traded fund that tracks silver, the iShares Silver Trust SLV, -1.58% fell 1.6%. September palladium PAU8, +0.35% shed 1.7% to $934.40 an ounce.