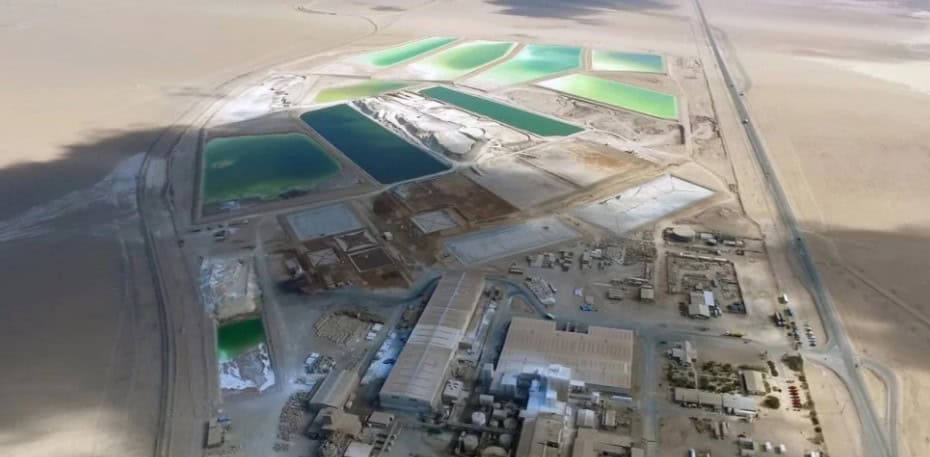 Chinese companies are scouring the world's mines for lithium, cobalt and other minerals that go into battery packs used in electric vehicles, resuming the kind of voracious hunt for resources that added to economic booms in exporting countries a decade earlier.
They were the first to get off the starting block in getting their hands on these vital minerals, crucial for China's ambition to lead the world in the production and use of electric and new energy vehicles, where up to 2 million units are expected to ply the nation's streets by 2020, according to government forecast.
China Molybdenum, a partly state-owned producer of the chemical element, paid US$2.65 billion in 2016 for the Tenke Fungurume Mine in the Democratic Republic of Congo, one of the world's largest known reserves of copper and cobalt resources.
GEM Co, a Shenzhen-based recycler of urban electronic waste, bought a third of the total cobalt output by Glencore Plc, the world's biggest producer of the metal over the next three years, according to a March filing to the local stock exchange.
"Over the past couple of years, we have seen evidence in the automotive industry where Chinese companies have been acquiring foreign assets across both original equipment manufacturing (OEM), components as well as mining," said JPMorgan Chase & Co's analyst Nick Lai, in the bank's 2025 EV Outlook report. "Our view is that vertical integration in the auto industry is not unusual. Many global OEMs have investments or equity stakes in key components."
Part of the reason for the shopping spree is China's geological disadvantage, which saw the country contributing to a mere 7 per cent of global lithium output last year, even as Chinese reserves are among the world's largest, said Zhao Dongchen, head of raw materials research at ICBC International in Hong Kong.
The latest such asset acquirer was Tianqi Lithium, based in the Sichuan provincial capital of Chengdu, which paid US$4.1 billion in May to buy 24 per cent of Chile's Sociedad Química y Minera (SQM), the world's second-biggest producer of lithium.
Combined with other technological inroads, innovations and improvements made into the global supply chain of lithium-ion batteries, the acquisitions have propelled China to surpass South Korea to become the world's largest supplier of lithium batteries.
"China is the largest global consumer of lithium," said Zhao. "Further down the road, we believe China's EV development will drastically tighten the global lithium balance."
The trend continues. Jiangxi Ganfeng Lithium, one of China's largest producers of the battery metal, is seeking a US$1 billion initial public offering (IPO) in Hong Kong to raise funds toward the development of a mining project in Argentina.
Chemphys Chengdu Chemical Industry has become the biggest shareholder of Canada's NRG Metals after a US$1.4 million private placement, whereby the Chinese company committed to an offtake agreement on all potential future production of lithium from the Hombre Muerto North project in Argentina.
The Chinese government is anxious for the core technology of electric batteries – as well as the most crucial parts of the supply chain – to be in Chinese hands, driven in equal parts by technological nationalism and a pragmatic concern to keep dependence on foreign suppliers to the minimum.
A lesson in point was the ban imposed in April on ZTE, one of the largest Chinese manufacturers of telecommunications equipment, to import US chips and computer software, for breaching the terms of settling a violation of North Korea trade sanctions.
Even though ZTE's products command substantial shares of the global market, they are heavily dependent on imported components and software. The US ban would deprive ZTE of the core semiconduction chips and operating software it needs to power its smartphones and telecommunications equipment.
The ban on US exports to ZTE has invoked a round of soul searching among China's policymakers and technology companies, and hardened the government's resolve to commit more research dollars toward developing indigenous technology, as well as get its hands on the most crucial components – and raw materials – to power the nation's technological innovations.
However, the forays into global acquisitions haven't been all smooth sailing for all Chinese firms.
"Grabbing key resource mining assets overseas is key for lowering the prices of raw materials domestically," said a 2014 report by China's top think tank the Chinese Academy of Social Sciences.
"However, because of the complexity of some of the projects, some Chinese companies saw delay, default and loss-making of these projects."
Some of the attempts, especially in emerging markets, failed from lack of understanding of local political climate, while others were hobbled by the duration it takes to get regulatory approvals by local authorities.
For instance, China National Gold was forced to withdraw an offer for African Barrick Gold, Tanzania's largest gold miner, after the local government made an abrupt decision to levy a 20 per cent tax on the sale in 2012.
"We don't see overseas M&A by Chinese auto players as a key trend," said JPMorgan's Lai. "Instead, what we are seeing is that more foreign companies, including OEMs, parts suppliers as well as miners, are looking for business opportunities onshore in China where the sheer size of the market and the potential growth dwarfs any other markets in the world."
Some of China's resource companies were also misled by host governments and local authorities that were desperate for investment dollars, so much so that they underplayed the financial and technical challenges of establishing commercially successful mines in Canada, according to a report in CBC News, citing a 2015 by the Canadian ambassador to Beijing.
Many mineral-related investment projects have failed with declines in global commodity prices, and companies ran up against "harsh climate, poor infrastructure, scarce workforce, foreign temporary worker limitations and regulatory requirements," according to the report, citing a related document by Natural Resources Canada.
Still, the need for Chinese companies to control the nation's technological supply chain is emerging in a number of mergers and acquisitions. The Chinese government is also weighing in by giving its imprimatur through the Chinese president's signature project – the Belt and Road Initiative – which seeks to recreate new investments, trade and infrastructure projects along the ancient Silk Road from China to Africa and Europe.
China and Chile in particular had been cooperating on projects, including the manufacturing of batteries based on lithium and cobalt, the Xinhua News Agency reported at the start of the year, citing comments by the former Chilean president Eduardo Frei Ruiz-Tagle, during a meeting between the Chinese foreign minister and his counterparts from the Community of Latin American and Caribbean States.
"We saw during Chile Week in 2017 that China is very interested in developing this type of technology for electric cars and that Chile has the advantage of being one of the largest producers of lithium in the world," the Chilean senator said, according to Xinhua's report.