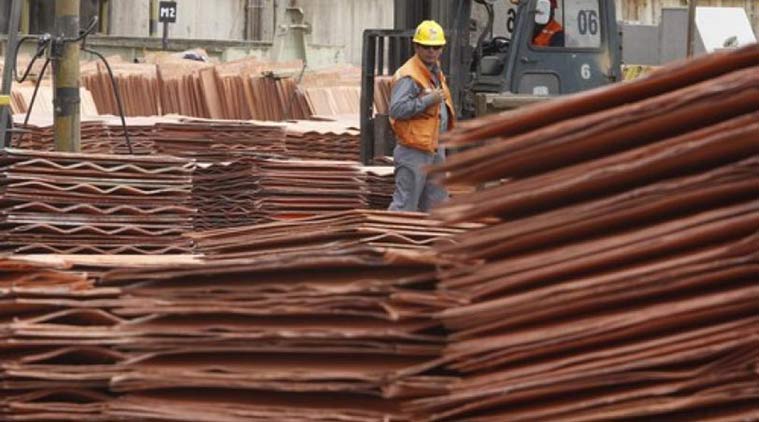 London copper prices on Monday were little changed after giving up earlier gains as concerns of a widening trade dispute between the United States and China roiled markets.
The U.S. Treasury Department is crafting rules that would block firms with at least 25 percent Chinese ownership from buying U.S. companies involved in "industrially significant technology," the Wall Street Journal reported on Sunday.
That reduced the momentum of a rally earlier on Monday's session after China's central bank said on Sunday it would cut the amount of cash that some banks must hold as reserves by 50 basis points to spur lending to smaller firms.
Fears of a full-blown trade war with Washington had magnified concerns about the outlook for the world's second-largest economy, following weaker-than-expected growth data for May.
FUNDAMENTALS
* COPPER: London Metal Exchange copper traded flat at $6,787 a tonne, as of 0758 GMT. Prices ended flat on Friday, when they hit their lowest since late May at $6,768 a tonne. Shanghai Futures Exchange copper eased by 0.1 percent to 51,860 yuan ($7,938) a tonne.
* STRIKES: Chile's Codelco, the world's top copper miner, said late on Friday that workers' unions at its small Salvador copper division had rejected an early wage deal from the company, pushing off further negotiations until later this year when its contract expires.
* INVENTORIES: Reflecting a pick-up in demand, U.S. exchange copper stocks have dropped by 10 percent in the past six weeks, reversing an uptrend seen since December. LME stocks are down by more than a fifth from a peak in late March, with nearly 12,000 tonnes reserved on Friday to be taken from warehouses.
* U.S. DOLLAR: The dollar was near its lowest since mid-June, lending support to metals.
* INVESTORS: Hedge funds and money managers trimmed their net-long positions in copper futures and options in the week to June 19, U.S. Commodity Futures Trading Commission data showed on Friday.
* ZINC: Reflecting tight supply of zinc in spot markets, the cash price is trading at nearly $60 above the benchmark price, the highest since last October.