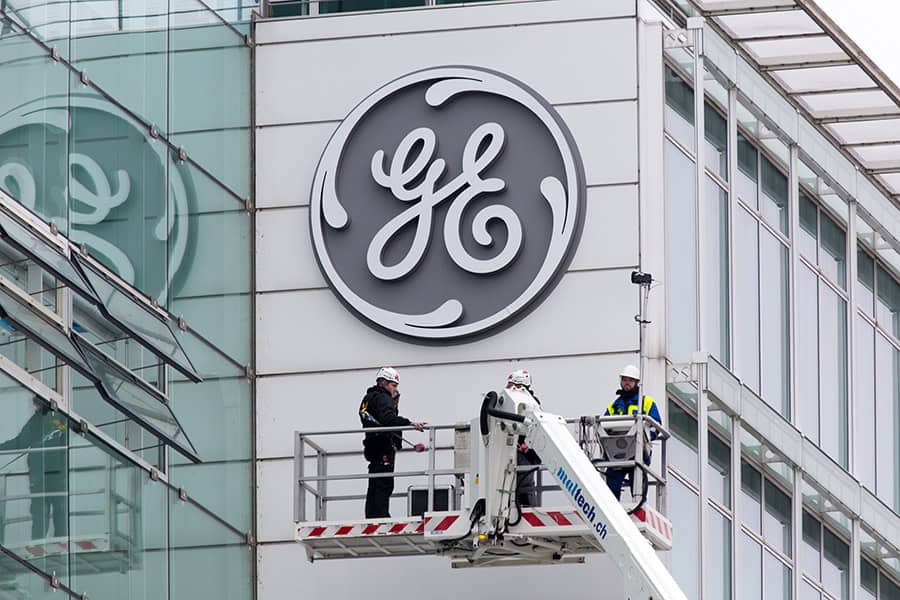 General Electric should suspend its quarterly dividend for the next 18 months, Goldman Sachs wrote in a Thursday night note to clients
"To avoid another dividend cut and potential rating downgrade we think the most prudent action would be for GE to consider suspending its common dividend for the next 18 months," Goldman Sachs said in the note.
Goldman Sachs said a dividend suspension would solve the two risks GE faces of a dividend cut and a credit rating downgrade "without sacrificing the long-term."
The embattled industrial conglomerate cut its dividend in half on Nov. 13, to 12 cents per share from 24 cents per share.
Some investors and analysts fear GE CEO John Flannery's turnaround plan for the embattled conglomerate will have to include another cut to the dividend. This concern sent GE shares tumbling on May 23 in theirworst single day of trading since April 2009. Flannery declined to comment that day about whether the company would cut its dividend again in 2019, instead telling analysts at a conference that GE would "have to see how this plays out" before deciding.
A cut to the dividend in 2019 is not in GE's plans, people familiar with the situation told CNBC's David Faber, who reported the news May 24. Flannery's remarks at the conference may have been misinterpreted, according to Faber's sources.
The company's shares fell Thursday after Faber reported GE was expected to make a significant announcement about its future by the end of the second quarter. Faber said it might not be a full breakup "as some had anticipated." But it will be a "significant announcement around reorganization of the company, including potentially something being spun."
GE stock rose 0.3 percent to $12.80 per share in trading Friday. Shares of GE are on track to decline 4 percent this week after GE was removed from the Dow Jones Industrial Average on Tuesday.
GE's need for cash
Flannery's restructuring of GE has been the subject of regular speculation over the past year. Instead of putting up the company wholesale, GE is focused on rebuilding around three of its core businesses, Flannery said at a conference on April 11.
"Let's narrow the scope down to our aviation business, our health-care business, our power business," Flannery said in April.
While GE is not likely to break up completely, Flannery promised shareholders in October the company would sell $20 billion in assets. So far, GE has announced plans to offload its transportation business to Wabtec in a deal valued at about $11.1 billion — in which GE received a $2.9 billion upfront payment in cash — and for private equity firm Veritas Capital to acquire a GE health-care unit for $1.05 billion in cash.
The GE Capital portfolio remains under scrutiny, after ending 2017 with $95 billion in debt outstanding. The Wall Street Journal reported on April 12 the embattled industrial conglomerate may sell the full GE Capital portfolio, potentially at a loss, citing sources familiar with the situation. Goldman Sachs highlighted GE Capital as one of GE's challenges in the firm's note Thursday, saying GE Capital continues to have a "tail risk associated with" its remaining assets.
Two federal investigations continue to hang over the company. The Securities and Exchange Commission is probing GE's accounting practices, and the Justice Department is investigating GE's connection with subprime mortgages. GE has set aside $1.5 billion in reserves for a potential legal settlement for the latter investigation, the company revealed during its earnings report on April 20.
GE shares have fallen more than 53 percent over the last 12 months, losing more than 26 percent this year alone.