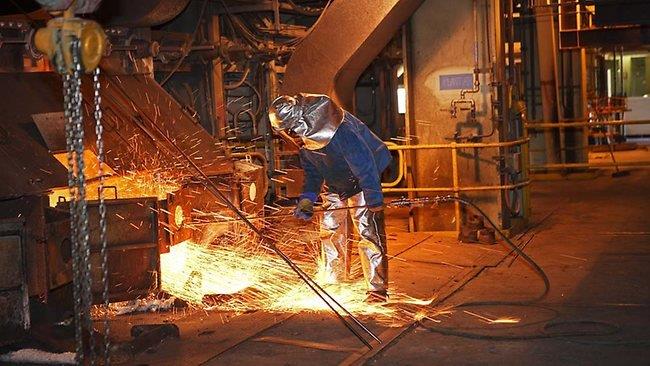 London copper rebounded from a three-week low on Wednesday after losing nearly 2 percent in the previous session, although a deepening trade row between China and the United States capped any recovery in risk appetite.
Nickel, up more than 1 percent, was the top gainer while other metals including aluminium and zinc also edged up, but most were not far above multi-week lows reached on Tuesday.
"While the (trade) tariffs in themselves don't derail the narrative of global economic growth, the prospect of further
punitive measures taken by both the U.S. and China certainly heightens that risk," Commonwealth Bank of Australia analyst Vivek Dhar wrote in a report.
Three-month copper on the London Metal Exchange was up 0.2 percent at $6,855 a tonne by 0710 GMT, after initially hitting $6,807, its weakest level since May 31. The most-traded August copper contract on the Shanghai Futures Exchange closed down 0.6 percent at 51,980 yuan ($8,036) a tonne.
* TRADE ROW: China has underestimated U.S. President Donald Trump's resolve to impose more tariffs unless it changes its "predatory" trade practices, a White House trade adviser said.
Trump threatened on Monday to hit $200 billion of Chinese imports with 10 percent tariffs if Beijing retaliated against his previous targeting of $50 billion in imports, aimed at pressuring China to stop stealing U.S. intellectual property.
* RUSSIA RETALIATES: Russia said it would impose import duties on U.S. road-building machinery, a measure likely to help Russian oligarch Oleg Deripaska, who was hit by U.S. sanctions and controls Russia's biggest maker of road-building equipment.
* RUSAL: Sanctions-hit Russian aluminium producer Rusal said it had started shipping bauxite from its Dian-Dian bauxite project in Guinea to its alumina refineries in other countries.
* CHINA COPPER: China's refined copper output rose 15.5 percent from a year ago to 767,000 tonnes in May, government data showed.
* GRAPHITE: Base metals explorer Metals Australia has signed a preliminary deal to develop a graphite mine in
Canada in partnership with a Chinese supplier to the battery industry for an unspecified amount of funding.
* OTHER METALS: LME nickel jumped 1.2 percent to $14,835 a tonne after hitting a three-week low on Tuesday.
Aluminium rose 0.6 percent to $2,183.50 a tonne after touching $2,167.50 on Tuesday, its weakest since April 10. Zinc added 0.7 percent to $3,022.50, recovering from the prior session's six-week low.
* SHANGHAI: In Shanghai, aluminium ended 0.6 percent weaker at 14,200 yuan a tonne, but off an 11-week low,
and zinc eased 0.5 percent to 23,505 yuan.
* MARKETS: The dollar steadied against a basket of currencies, although persistent worries about the U.S.-China
tariff rift kept currencies on edge. Asian stocks rebounded.