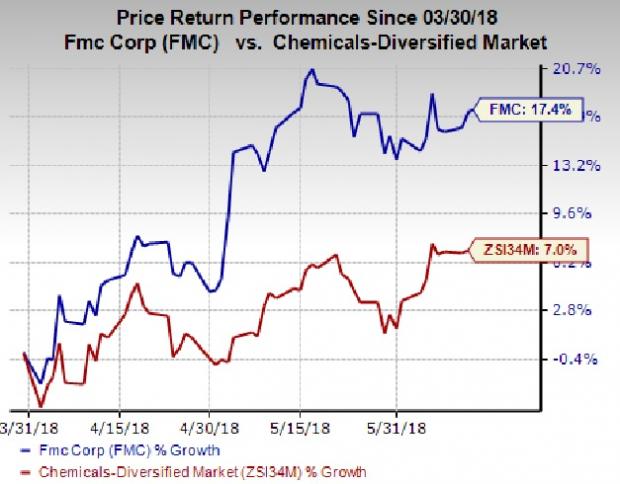 Shares of FMC Corporation have rallied around 17% quarter to date. The company has also significantly outperformed its industry's rise of roughly 7% to over the same time frame. The price performance has been backed by strong first-quarter results and the company's upward guidance revision for the full year.
FMC Corp, a Zacks Rank #1 (Strong Buy) stock, has a market cap of roughly $12.1 billion and average volume of shares traded in the last three months is around 1,385.5K. The company has an expected long-term earnings per share growth of 14.3%, higher than the industry average of 10.2%.
Let's take a look into the factors that are driving this chemical company.
What's Driving FMC?
FMC Corp swung to a profit in first-quarter 2018 on the back of solid results across its business segments. Revenues also jumped more than two-fold year over year. Both adjusted earnings and sales topped the Zacks Consensus Estimate.
Notably, FMC Corp outpaced the Zacks Consensus Estimate in each of the trailing four quarters, delivering an average positive earnings surprise of 8.2%.
For 2018, FMC Corp raised adjusted earnings expectations to the range of $5.90-$6.20 per share, from the previous view of $5.20-$5.60. Moreover, the company expects adjusted earnings in the range of $1.65-$1.75 per share for second-quarter 2018.
Annual estimates for FMC Corp have also moved north over the past two months, reflecting analysts' confidence on the stock. Over this period, the Zacks Consensus Estimate for 2018 has increased by around 9.7% to $6.11 per share. The Zacks Consensus Estimate for 2019 has also moved up roughly 9.1% over the same timeframe to $6.70.
The Zacks Consensus Estimate for earnings for 2018 reflects an expected year-over-year growth of around 125.5%. Moreover, earnings are expected to register a roughly 9.7% growth in 2019.
FMC Corp is witnessing strong momentum in its Lithium unit as demand for battery-grade lithium product remains strong. A significant long-term driver for the lithium business is the expected rapid adoption of lithium-ion batteries in electric vehicles. The company's expansion of lithium hydroxide in China and price increases of roughly 30% on hydroxide nearly doubled the Lithium segment's profitability year over year in the first quarter.
The company raised revenue estimate for the Lithium segment for 2018 on the back of strong performance in the first quarter. FMC Corp now expects full-year revenues in the range of $430-$460 million (up from the previous range of $420-$460 million). The company also stated that the plan to separate listing of its Lithium unit in October this year also remains on track.
Acquisitions are also adding strength to the company's agricultural business. The acquisition of a major portion of DuPont's Crop Protection business has provided a significant growth platform for FMC's Agricultural Solutions unit. The buyout significantly increases the company's presence in Asia and Europe.
Notably, the company's revenues for the Agricultural Solutions segment jumped a whopping 109% year over year in the first quarter, mainly driven by the DuPont asset buyout. FMC Corp raised the revenue expectations for 2018 for the segment to the range of $4.05 billion to $4.25 billion from its prior view of $3.95 billion to $4.15 billion.
FMC Corporation Price and Consensus
Other Stocks to Consider
Other top-ranked stocks worth considering in the basic materials space include Westlake Chemical Corporation , Celanese Corporation and The Chemours Company, each carrying a Zacks Rank #1. You can see the complete list of today's Zacks #1 Rank stocks here.
Westlake Chemical has an expected long-term earnings growth rate of 12.2%. Its shares have rallied roughly 80% over a year.
Celanese has an expected long-term earnings growth rate of 8.9%. Its shares have rallied roughly 28% over a year.
Chemours has an expected long-term earnings growth rate of 15.5%. The company's shares have gained around 35% in a year.