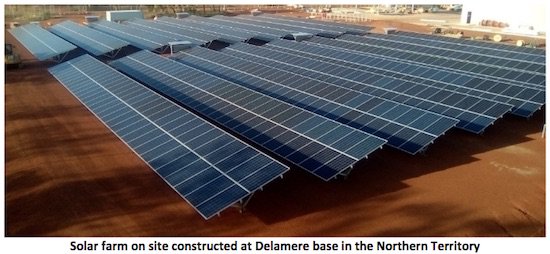 A hybrid solar and battery storage microgrid being installed at an Australian Air Force base in the Northern Territory is nearing completion, with just the energy storage system to be installed ahead of testing and commission.
The microgrid is being built at the Delamere Air Weapons Range south of Darwin by Energy Made Clean, a wholly owned subsidiary of ASX-listed renewables developer Carnegie Clean Energy.
EMC won the Department of Defence contract for the job in July last year, to design a hybrid energy system that would supply high penetration solar power to approximately 200kVA peak load and cut the facility's fuel usage by more than 60 per cent.
"The project has now entered its final phase which involves installing the BESS containers, primary and standby diesel generators and solar inverters at site ahead of site acceptance testing and commissioning," the company said.
Delamere project marked the second Department of Defence contract for a renewable energy hybrid microgrid system, which was also delivered by EMC at Bathurst Island in 2015.
DoD has since launched two further tenders: one for a 1.2MW array at a communications base in WA; and another, in November, for a combined total of 12.5MW of solar for its Robertson Barracks, also in the Northern Territory, and its RAAF base in Darwin.
Before this, in 2015, Defence Housing Australia announced the creation of a "solar suburb" near Darwin, with each home to feature 4.5kW of rooftop solar and charging points for electric vehicles.
At the time, DHA said the development at Breezes Muirhead would create a 337kW solar suburb, producing 600,000kWh of solar electricity a year, and save Defence members more than $4.125 million in electricity costs over the development's lifetime.
Carnegie, which acquired EMC in October 2016, says the Delamere microgrid is exactly the sort of complex and high value project EMC is "uniquely positioned" to deliver.
"Increasingly, off grid and fringe of grid customers are seeking a combination of cost effective, reliable and clean energy solutions that can now be achieved by these state of the art microgrids," said Carnegie managing director Michael Ottaviano in a statement.
"Projects of this size, with a contract value of $3-4 million, have put EMC on track to record revenues in the current half of the 2018 financial year," he said.